Nominated Candidates
In the following all candidates running for the election of doctoral candidates' representatives introduce themselves briefly. For each faculty the candidates are listed alphabetically. Sadly, there are no candidates at the Faculty of Medicine.
Faculty of Humanities, Social Sciences, and Theology
---
Claudia Hachenberger
My name is Claudia Hachenberger. I studied Ibero-Romance and English and American Studies (B.A.) and finished my master's program The Americas/Las Américas at the FAU in 2018. Since April 2018, I am working on my dissertation project titled "'What if?' – Literary Articulations of Political Perspectives (and Alternatives) in the Americas since the 1970s." In April 2019 I started to work at the Institute for Romance Studies (Spanish Literature). I would like to become a member of the Promovierendenkonvent and to represent the doctoral candidates of the Faculty of Humanities, Social Sciences, and Theology.
---
Joachim Peters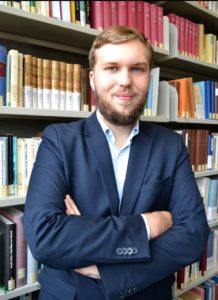 After studying the Master's program Ethics of Text Cultures and the Teacher Training Program German / History for Gymnasium in Erlangen, I started my PhD at the Chair of German Linguistics in March 2018, where I currently work as a research assistant. My doctoral thesis deals with the emergence of the specialized language of palliative medicine and palliative care during the last 20 years. I collaborate closely with the palliative care unit of the University Hospital Erlangen.
Between 2015 – 2017, I was a voting member of the Zentrum für Lehrerinnen und Lehrerbildung (ZfL). I would be very happy to represent the PhD students of the Faculty of Humanities in the Promovierendenkonvent.
---
Christian Rink
Hi, my name is Christian Rink and I have been working at FAU's "Department Germanistik und Komparatistik" since October 2018. More specifically, I am working for the Erasmus Mundus Master Course "European Master in Lexicography (EMLex)", where I am responsible for the application procedure and the promotion of the master program. Furthermore, I am a PhD student of Prof. Dr. Stefan Schierholz, writing my thesis about Chinese-German bilingual lexicography. I graduated in Chinese studies, Russian studies and Politics at Philipps University Marburg in 2015. Afterwards, I worked for two years (2016-2018) at Chongqing University and Chongqing University of Science and Technology, China, as a lecturer for German linguistics, history and the German language.
---
Andreas Schaffer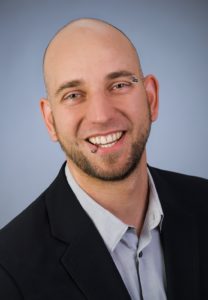 My Name is Andreas Schaffer and I studied Classical and Christian Archaeology here at FAU Erlangen–Nürnberg. After finishing my Magister I started working on my PhD on "The Attic Pottery in the Kingdom of Tamassos on Cyprus".
---
Sabina Walter
My name is Sabina Walter and I run for represantative of the doctoral candidates of the Facultynof Humanities, Social Sciences and Theology. Having grown up in Nürnberg, I chose to "stay local" and study here in Erlangen. I originally studied to become a teacher and finished my exams in psychology, Latin, Ancient Greek and history before deciding to go for a doctor's degree. Now I am working as an assistant at the Chair of Ancient History and writing my doctoral thesis on the style of government of Theoderic the Great (which is basically a "how to rule Romans as a non-Roman"). So my research focuses on the migration period and on interactions between rulers and subjects. I have made experiences in student organizations during my time as an undergrad and now I hope to be able to contribute to the efforts of the Promovierendenkonvent and use this opportunity for exchange with doctoral candidates from other faculties.
Faculty of Business, Economics, and Law
---
Laura Kölbl
My name is Laura Kölbl and I am currently a representative of the doctoral students of the Faculty of Business, Economics, and Law. If reelected, I will   safeguard your interests in commissions for another year and also be available as a contact person for the PhD students at the FAU.
I studied social sciences and statistics at the LMU in Munich. Since September 2017, I am research assistant at the chair of statistics and econometrics here at the FAU. My research mainly focusses on Machine Learning and the automated analysis of text documents.
---
Florian Zeitner
My name is Florian Zeitner and I represent the doctoral candidates of the FAU School of Law since 2018. I attended law school at the University of Bayreuth and the FAU Erlangen-Nürnberg. Since my graduation in February 2018 I am working as a lecturer in public law and writing my doctoral thesis in public international law and environmental law under the supervision of Prof. Bernhard Wegener at the FAU-Institute of German, European and International Public Law.
I have experience in charitable activities and I try to share my knowledge as a lawyer also in the context of our discussions during the doctoral candidates' representatives meetings.
I furthermore serve as your delegate in the Commission for Internationalisation of the FAU. Therefore feel free to contact me, especially if you are writing your thesis in law or if you are an international student!
Faculty of Sciences
---
Simone Gehrer
Hi! My name is Simone Gehrer and I candidate for the Doctoral Candidates' Representatives of Faculty of Sciences. I started my doctorate at the Institute of Theoretical Physics I in 2017. My research focuses on the mechanical properties of biological cells in the context of tissue.
In October 2017 I became a member of the Promovierendenkonvent of the FAU. I enjoyed being a contact person for doctoral candidates of my faculty as well as representing all doctoral candidates in various commissions, i.e. the Commission for Equal Opportunities. Beside my work in the Promovierendenkonvent, I also represent doctoral candidates in the Life@FAU graduate school.
I would love to represent the doctoral candidates in the Promovierendenkonvent also in the future.
---
Helena Muster
Hi! I am Helena Muster and part of the doctoral candidates' representation as Appointee for Academic Exchange since December 2018. In April 2017 I started working on my PhD in biology where I study how muscles are formed during the development of the fruit fly Drosophila. Since October 2018 the ARIADNETechNat Mentoring Program supports me.
Through my work I want to fuel the exchange of experiences among doctoral candidates to enable mutual inspiration and support.
---
Benedikt Slavik
Hello! My Name is Benedikt Slavik and I would like to become a member of the Promovierendenkonvent! I studied Chemistry at the FAU and since August 2017 I am doing my PhD at the chair of aroma and smell research, one of the two food chemistry chairs. I have always been motivated in organizational and representative tasks and by becoming a representative of the doctoral candidates I am looking forward to realize your needs and wishes in the committees of the University!
Faculty of Engineering
---
Jakob Gabriel
My aim is not just to participate in the various committees, but make noticeable improvements for all doctorates. For instance, we need guidlines how to use texts of own publication in the  doctoral thesis. Also the information on how to get support in case of conflicts or issues during the doctoral process needs to be easier to access. As I grew up in Erlangen, studied at our FAU, participated in the students association and I am elected doctoral candidates' representative since 2017, I hope that my experience will be of use.
At the Chair on Automatic Control, Department EEI, I research on the control of hyperbolic systems.
---
Peter Tschapek

Als Promotionsstudent der Technischen Fakultät im Fach Elektrotechnik bin ich am Lehrstuhl für Hochfrequenztechnik als wissenschaftlicher Mitarbeiter tätig. Hierbei erforsche ich neue Verfahren und Methoden im Bereich der Radar- und Lokalisierungstechnik.
Als gewählter Vertreter würde ich mich dafür einsetzen, dass die Attraktivität und die Rahmenbedingungen der Promotion, allen voran an der Technischen Fakultät, gewahrt bleiben und stetig weiter verbessert werden. Hierbei ist es mir aber auch wichtig, dass der Konvent in Zukunft auch die Interessen derjenigen Promovierenden vertritt, die aufgrund ihres Studiendesigns und veralteter Prüfungs- und Promotionsordnungen sich nicht aktiv an der Hochschulpolitik für Verbesserungen engagieren können.
---
Thorsten Wißmann
Since last year, I'm an elected representative of the doctoral candidates at the faculty of engineering. My main interest is the current discussion at our faculty how to use publications from the phd studies in the dissertation thesis. In order to solve this question, I am a member of a task force with professors, trying to find a helping regulation and I'd be happy to pursue this further.
In my research, I work in the area of theoretical computer science at the computer science chair 8.