Nominated Candidates
In the following, all candidates running for the election as doctoral candidates' representatives introduce themselves briefly. For each faculty, the candidates are listed alphabetically. Sadly, this year there are no candidates at the Faculty of Medicine and at the Faculty of Business, Economics, and Law.
Faculty of Humanities, Social Sciences, and Theology
---
Vanesa Cotroneo
My name is Vanesa Cotroneo and I belong to the Faculty of Humanities, Social Sciences and Theology (Philosophische Fakultät). Since my first two Bachelors in Literature, Linguistics and Cultural Studies at the University of Buenos Aires, Argentina, I have always been interested in Comparative Studies and Intermediality, while I worked as Chair assistant in English and North American Literature and co-organized scientific events as member of the Institutional Relations Commission. I studied a postgraduate degree in Comparative Literature and moved to Europe –Belgium and Germany-, completed the Master "The Americas/ Las Américas", participating and co-organizing international conferences at the FAU. In 2019, I started my PhD in Pedagogy at the Friedrich Alexander University. My research topics are arts, literature and culture in education together with media studies.  As an international student, I am aware of the University's commitment with diversity and intercultural programs, which motivates me to participate and actively contribute towards our research opportunities improvement and Doctoral Students experiences.
---
Claudia Hachenberger
My name is Claudia Hachenberger. I studied Ibero-Romance and English and American Studies (B.A.) and finished my master's program The Americas/Las Américas at the FAU in 2018. Since April 2018, I have been working on my dissertation project titled "'What if?' – Literary Articulations of Political Perspectives (and Alternatives) in the Americas since the 1970s." Currently, I hold a doctoral fellowship and only work sporadically as a lecturer at the Chair of North American Literary Studies. I have been a member of the Promovierendenkonvent since October 2019. I represent the PhD candidates of the Faculty of Humanities, Social Sciences, and Theology. As a representative of doctoral candidates, I am member of the faculty council as well as of several commissions, e.g. the Commission for Research and Young Researchers, the Library Commission, or the Commission for Internationalisation. As I really like being a member of the ProKo and working with doctoral students, I would be very happy to represent the PhD students of my faculty for another year.
---
Bernhard Thieroff
My name is Bernhard Thieroff and since 2018, I am working at the Chair of Geography Education. My research focus for the PhD is on educational processes related to (regional) climate change. Before that, I studied at FAU to become a teacher of geography, economics, and philosophy (Gymnasium).
I would like to become a representative of the doctoral students at the Faculty of Humanities, Social Sciences and Theology in the Promovierendenkonvent. I want to support their interests (e.g. why so few PhD students have the choice between a monography and a cumulative doctoral thesis) and improve the flow of information to the PhD students.
Faculty of Sciences
---
Timo Eckstein
Dear fellow PhD student,
I would like to be your PhD representative at the Faculty of Science for the upcoming year. Before presenting you my main ambition, fulltime payment for fulltime work, let me introduce myself to you by my previous involvement in student advocacy on the local, national and international level. Locally, I have been and a member of FSI Mathe/Physik and jDPG organising quite a few events from scientific guest lectures through local excursions to socials. For example, I organised the national preliminary DOPPLERS for the international physics competition PLANCKS in 2018. Regarding representation on the national level, I was one of the delegates of FAU at ZKK in Aachen – so far, the only national student union meeting of both mathematics, computer science and physics. In terms of nationwide organisation, I arranged a very popular excursion to Kiruna in 2015 with a new edition planned next year. Further, I was involved in the organisation of the International Conference of Physics Students, a one-week event with approx. 500 students from 50 countries. Keynotes were Nobel Laureate Klaus von Klitzing, ESA Director General "Jan" Wöhrner and Prof. Gisela Anton from the Erlangen Centre of Astroparticle Physics, among others.
On the international level I have been a member of the Executive Committee of the International Association of Physics Students (IAPS) for two years, in the second one also as its vice president. In that time, I was able to recruit two national and eleven local physics student organisations around the globe for IAPS and was involved in the organisation of the International Year of Light 2018 event at the UNESCO HQ in Paris. Most noteworthily of all, I became the first student representative at an Executive Council and Commission Chair Meeting of the International Union of Pure and Applied Physics (IUPAP) and I am still very keen on fostering the collaboration between IUPAP and IAPS. Just to give you an idea about IUPAP's official role: it verified our new System of Units and decides upon recommendation together with its chemistry equivalent IUPAC on new element names.
My aim as PhD representative: Fulltime payment for fulltime work
Do you work fulltime, but get paid part time or even worse? Well, then you unfortunately belong to the majority of the German PhD student population according to the federal report on young scientists (https://www.buwin.de/dateien/buwin-2017.pdf, e.g. see page 140: average working hours 7.7 h/day ). Could you imagine a high school teacher being expected to work fulltime and only getting paid for the number of lessons she/he delivers? I cannot. Why though are we told that this is an unavoidable practice at universities, particularly for PhD students? We have to talk about it. It is not us revolting against our supervisors; much more it is asking our state in a serious and clear manner why it is allowing and practicing wage dumping at its own institutions. The differences are severe. The only disciplines that pay their PhD students similar to their working hours are mostly engineering, computer science and sometimes chemistry, while you are more likely to earn less as your fellow PhD student if you are working in a field with higher percentage of women (see federal report page 89).
It is very difficult to get reliable public data on the matter. Indeed, the data mostly comes from PhD students themselves. Very understandable, since it is truly a non-negligible bit our public institutions should not be proud of. A small exception are the guidelines provided by the DFG (Deutsche Forschungsgemeinschaft), even though they are not available in English (https://www.dfg.de/formulare/55_02/55_02_de.pdf). When opening that short and simple two-page table you may wonder once more why even DFG as a semi-public institution recommends for most subjects to reward PhD students for less hours than they are working. Worse, it clearly suggests different compensation for different subjects – something plainly unthinkable at our primary and secondary education institution, but common practice at our tertiary ones despite similarly high qualifications. This also seems to follow the rule of thumb: the more female a discipline is, the worse paid are its workhorses, its PhD students.
Even though its numbers likely differ from other scientific disciplines, the 2019 PhD study of the German Physical Society (https://www.dpg-physik.de/veroeffentlichungen/publikationen/studien-der-dpg/pix-studien/dpg_promotionsstudie2019.pdf) provides very interesting insights into the status quo. It finds that around 80 % of the PhD students work fulltime (more than 38 hours a week), while less than a tenth of them, only 5.7 %, get paid fulltime. At the same time the DFG guideline to reward PhD students in physics normally a ¾ position is only met in 1/3 of the cases; worse, more than ¾ state that they can imagine to be at risk of unemployment during their PhD. This indicates, despite a lack of publicly available official data, that the situation is even worse than the DFG guidelines might suggest. In physics as in other sciences this is particularly both bitter and incomprehensible as PhD students are significantly involved in the education of engineering and computer science students who will find better conditions for their PhD studies than their student teachers.
To improve this, I will, when elected, ask FAU with your mandate to stand up for their people who keep the university system running and compensate them accordingly. Fulltime payment for fulltime work needs to be self-evident not only in society but especially also at its role model institutions, its universities. It will be impossible to achieve this tomorrow, but that cannot hinder us from fostering change. To begin with, this could involve the development of an FAU transition strategy from the status quo through at minimum ¾ positions to full compensation to not risk unemployment among the (future) PhD students. Further, FAU should lobby in future third party-funded projects that staff is paid accordingly to their working hours without (gender) discriminating between subjects.
It won't be easy, but as PhD students we are used to that. Let's show the endurance we exhibit for our PhD projects as well for our working conditions. Our main issue is that we currently do not have a great lobby (e.g. unlike schoolteachers). With your vote, let me help creating one!
Yours sincerely,
Timo Eckstein
PS: Please feel very welcome to contact me via Timo.Eckstein@fau.de.
---
Benedikt Slavik
Hello! My Name is Benedikt Slavik and I am part of the doctoral candidates' representation as Appointee for Academic Exchange and I would like to continue my work also for the next term! Since August 2017, I am doing my PhD at the Chair of Aroma and Smell Research, one of the two food chemistry chairs. There we are interested in the identification, quantification, and characterization of aroma active compounds surrounding our daily life. I have always been motivated in organizational and representative tasks and I am looking forward to realize your needs and wishes. Do not hesitate to contact us, we will help you out with any concerns during your PhD!
Faculty of Engineering
---
Christoph Konrad
I am Christoph Konrad and I will continue to be committed even if you do not vote for me.
Attention! To explain this, I will start with a quote: "If you want to build a ship, don't drum up people to gather wood, divide the word, and give orders. Instead, teach them to yearn for the vast and endless sea." — Antoine de Saint-Exupéry
According to this quotation, the drive for action comes from the inside. And yes, I know the quote is a bit worn out, but it describes my motivation, that of many of my colleagues who are candidates for election, and especially that of several doctoral students out there very well. We all have one thing in common. The yearning to make a difference and not resting on our laurels. We are not afraid to take up some unpleasant positions. Because: "Basst scho" is not enough for us.
Trying out, gaining experience, exploring limits. That's how I've always done it: After my bachelor's degree in mechanical engineering at a university of applied sciences and my involvement in a Formula Students Team there, I switched to the FAU. In addition to representing the student body on six committees, I decided to do a Master's in Mechatronics and now I'm sitting here in the home office, like you.
I hope I was able to arouse your yearning with these lines, because the main thing is: You vote!
---
Phillip Raffeck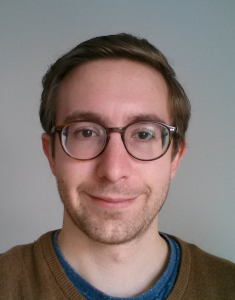 Hello! My name is Phillip Raffeck and I've been a member of the FAU since 2011, where I finished both my bachelor's and master's degree in computer science. Since 2019, I am a PhD student at the chair for Distributed Systems and Operating Systems, where I mainly focus on real-time (operating) systems. I am motivated to work together with the other members of the Promovierendenkonvent to do my part for a pleasant PhD experience at the FAU.
---
Peter Tschapek

My name is Peter Tschapek, I'm a doctoral candidate in electrical engineering and research assistant at the Institute of Microwaves and Photonics. As a representative of the faculty of engineering it's important for me to work towards a timely and long-term solution regarding self-plagiarism. Clear conditions for the thesis and related prior publications are required. Especially, a useful regulation for own contributions in publications must be found in this context. The faculty of engineering is subject to constant changes and thus should consider new approaches related to the topic of cumulative dissertations.