— deutschsprachige Fassung nachfolgend —
The Doctoral Candidates' Representatives ("Promovierendenkonvent" literally translated to "Convent of Doctoral Candidates") are the elected representation of all doctoral candidates and PhD students at the Friedrich-Alexander-Universität Erlangen-Nürnberg. We support the interests and wishes of young academic scholars at the university and help them during the doctoral process in case of individual questions or conflicts. Two representatives from each of the five faculties are elected for one year during the summer term. Every doctoral candidate registered at docDaten can vote and can be nominated for the elections.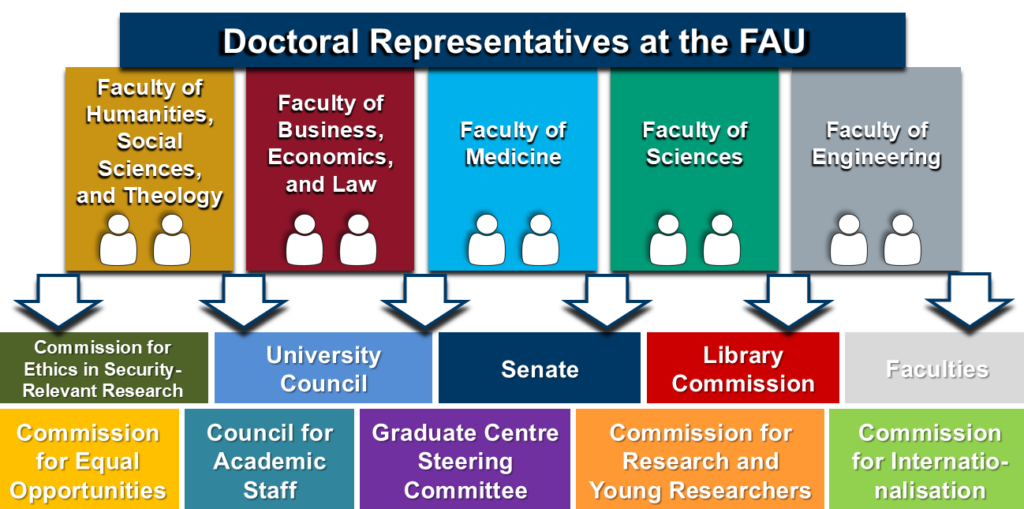 — deutschsprachige Fassung—
Über uns
Der Promovierendenkonvent ist die gewählte Vertretung aller Promovierenden der Friedrich-Alexander-Universität Erlangen-Nürnberg. Dieser Konvent vertritt die Interessen und Belange der Promovierenden innerhalb der Universität. Er besteht jeweils aus zwei Vertreter*innen der fünf Fakultäten, die für eine Amtszeit von einem Jahr gewählt werden. Dabei sind alle Promovierenden, die in der Promotionsdatenbank des Graduiertenzentrums docDaten eingetragen sind, aktiv und passiv wahlberechtigt. Details zu den stets im Sommersemester stattfindenden Wahlen gibt es hier.
Die Promovierendenvertretung ist zudem in folgenden Gremien aktiv:
Konvent der wissenschaftlich Mitarbeitenden
2 Vertretungen im Leitungsgremium des Graduiertenzentrums
Beratendes Mitglied im Senat
Gast im Universitätsrat
Gast in einigen Fakultätsräten
Beratendes Mitglied in der Kommission für Internationalisierung
Beratendes Mitglied in der Kommission für Forschung und wissenschaftlichen Nachwuchs
Beratendes Mitglied in der Kommission für Chancengleichheit
Beratendes Mitglied in der Bibliothekskommission
Beratendes Mitglied in der Dual-Use-Kommission