For the legislative period of 2020/2021, the Promovierendenkonvent consists of the following members:
Peter Tschapek (Speaker)

As a doctoral student in electrical engineering, I represent the doctoral students of the Faculty of Engineering. Since June 2020, I am the elected speaker of the doctoral candidate representatives at the FAU. In this context, I represent the interests of doctoral students in the Senate, the University Council and the executive committee of the Council for Academic Staff.
In addition to my doctorate, I work as a research assistant at the Institute of Microwaves and Photonics. In my research, I mainly deal with phase noise processes in radar systems.
Benedikt Slavik (Vice Speaker)

Hello! My name is Benedikt Slavik and I represent the PhDs of the faculty of sciences. As part of the doctoral candidates' representation I am a member of the Commission for Ethics in Security-Relevant Research. I am doing my PhD at the chair of aroma and smell research, one of the two food chemistry chairs. There, we are interested in the aroma active and volatile compounds surrounding our daily life. I have always been motivated in organizational and representative tasks and I am looking forward to realize your needs and wishes. Do not hesitate to contact us, we will help you with any concerns during your PhD!
Phillip Raffeck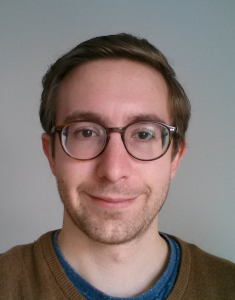 Hello! My name is Phillip Raffeck and I represent the doctoral candidates at the Faculty of Engineering since October 2020 together with Peter Tschapek. For the doctoral candidates' representatives, I am a member of the Steering Committee of the Graduate Centre as well as the Library Commission.
I've been a member of the FAU since 2011, where I finished both my
bachelor's and master's degree in computer science. Since 2019, I am a PhD student at the chair for Distributed Systems and Operating Systems, where I mainly focus on real-time (operating) systems.
Timo Eckstein
I am one of your representatives for the Faculty of Science. I represent you in following Commissions:
* Research and Young Researchers
* Internationalisation
On top of that, I am involved in creating a Bavarian PhD student representation, to give us PhD student a stronger voice, which we then for instance can use to demand with more influence fulltime wages for the fulltime work we are expected to do and are already doing.
Vanesa Cotroneo                                               
My name is Vanesa Cotroneo and I belong to the Faculty of Humanities, Social Sciences and Theology. From October 1st, 2020 to September 30th, 2021, I will be working with my colleagues as an elected member of the Doctoral Representation at the FAU. I have studied Comparative Literature and Pedagogy in Argentina and Germany, and I will be integrating three commissions in our Doctoral Students Representation: Commission for Equal Opportunities, Commission for Internationalisation and the Library Commission. It is my aim to facilitate communication, information transference and to contribute towards the improvement of our research opportunities and experiences as Doctoral Students. Please, feel free to contact me.
Faculty of Medicine and Faculty of business, Economics and law
Since there are no elected doctoral candidates representatives for the Faculty of Medicine and the Faculty of Business, Economics and Law, we formed a Task Force. We want to help and consult doctoral candidates in case of formal problems with their doctoral process. This task force consists of elected representatives of other faculties and volunteers that are related to the Faculty of Medicine and the Faculty of Business, Economics and Law. You can contact us directly via proko-med@lists.fau.de.
Former elected members
Jakob Gabriel until May 2020 (former speaker)
Helena Muster until September 2020 (former vice speaker)
Claudia Hachenberger until September 2020
Sabina Walter until September 2020
Florian Zeitner until September 2020
Laura Kölbl until September 2020
Simone Gehrer until September 2020
Thorsten Wißmann until September 2020
Timo Sestu until September 2019
Matthias Lexow until September 2019
Marie-Kristin Döbler until September 2019
Maria Lehmann until September 2019
Sabine Ebensperger until September 2018
Robert Prophet until September 2018 (former speaker)
Monika Doll until September 2018
Annika Clarner until September 2017 (former speaker)
Matthias Plennert until September 2017
Veikko Ruth until September 2017
Kerstin Lorek until September 2017