For the legislative period of 2021/2022, the Promovierendenkonvent consists of the following members:
Timo Eckstein (Speaker)
I am since WS 2020 one of your representatives at the Faculty of Science and I currently the spokesperson of ProKo. Please always feel welcome to contact one of us related to PhD student matters. We might not always be able to directly help you, but we are certainly very happy to support your ideas, suggestions or also you in case of a conflict situation.
As PhD spokesperson, I represent us PhD students in FAU senate and at the university council. As it is good practice at FAU, I got elected at the steering committee of the staff representation (Konvent der wissenschaftlichen Mitarbeitenden). Further, I am currently representing you in the Commission for Research and Young Researchers and the Commission for security relevant Research (deputy).
Overall, our main ambition lies in giving us doctoral students a louder voice by a better coordination of our efforts, by an organised network across universities. This can consequently then be used to put more leverage behind resolving issues we face like for example to obtain full-time contracts for our more than full-time work.
In Bavaria we accomplished together with the Graduate Council of TU Munich and student representatives from Bayreuth, Regensburg and Würzburg, to organise regular meetings between PhD representatives. These developed into a network of Bacarian PhD representatives (LaProBay, www.laprobay.de) and depict first important steps in the establishment of a representation of doctoral candidates on the Bavarian level, similar to the ones already existing in other federal states. Together, we published a joint position on the first version of the planned university reform (German: "Hochschulinnovationsgesetz") and continue critically scrutinizing how the proposed changes can – positively and negatively – affect doctoral students.
On a federal level, we started cooperating with doctoral representatives from Baden-Wuerttemberg, Thuringia, Saxony and Lower Saxony as well as non-university research institutions (Max-Planck, Leibnitz, Helmholtz). Due to the upcoming federal elections in Germany in September 2021, we worked out together a questionnaire on doctoral student relevant topics. These included for instance questions about career paths in academia, working conditions, diversity, science & politics and work-life balance.
Ingrid Zahn (Vice Speaker)
My name is Ingrid Zahn and I belong to the faculty of science. Currently, I am a doctoral student at the institute of functional and clinical anatomy. Our chair deals with questions concerning the eye, in particular dry eye disease, the meibomian glands, ocular surface and the draining tear ducts as well as the role of various proteins and peptides on the ocular surface, in joints and in other body localizations.
As part of the doctoral candidates' representation I am a member of the Steering Committee of the Graduate Centre. By participating, I would like to give the large group of doctoral candidates a voice. Please do not hesitate to contact us with any questions you may have regarding your doctorate.
Phillip Raffeck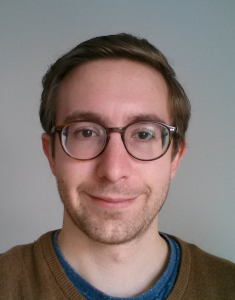 Hello!
My name is Phillip Raffeck and I've been one of the representatives of the doctoral candidates at the Faculty of Engineering since October 2020.
As part of this, I've been a member of the Steering Committee of the Graduate Centre as well as the Library Commission.
I've been a member of the FAU since 2011, where I finished both my bachelor's and master's degrees in computer science. Since 2019, I am a doctoral candidate at the chair for Distributed Systems and Operating Systems, where I mainly focus on real-time (operating) systems.
Julia Herrmann
Since 2019 I am doctoral researcher at the FAU WiSo. For the period 2021/2022 I am elected as doctoral representative of the Faculty of Business, Economics and Law and I am very much looking forward to actively shape higher education policies at our university and discuss the working conditions & career perspectives of FAU's doctoral candidates.
When it comes to our activities, I am particularly involved in the ProKo's network activities within LaProBay –  the interdisciplinary network for doctoral students on Bavarian state level. At FAU-level I give advice to and represent doctoral candidates in the Commission for Equal Opportunities and the Commission for Internationalisation. Also, all doctoral candidates at FAU WiSo are invited to contact me on individual matters relevant to the doctoral process.
Florian Nikolai
Hi!
I am Florian and I am one of the representatives of the doctoral candidates at the Faculty of Business, Economics and Law.
I've been a member of the FAU since 2012. I graduated in law in 2017 and finished my legal clerkship in 2019. Since December 2019 I've been working as a funded researcher in the Research Training Group "Cybercrime and Forensic Computing".
Jannik Alomo
My name is Jannik Alomo and I am the doctoral representative of the Faculty of Medicine. I have been studying medicine since 2017 and my doctoral thesis currently takes place in the department of Radiation Oncology and deals with new therapeutic approaches for lung cancer diseases.
As part of the doctoral candidate representatives, I advise and represent you in the Commission for Internationalisation and the Diversity Commission. In addition, I have been delegated to the Commission for Equal Opportunities as a member of the Student Council.
Through my efforts, I hope to be able to exploit further potential for improvement for us doctoral candidates, so that FAU can continue to develop in the direction of a modern and international university for us as well.
If you encounter any difficulties, please feel free to contact us at any time!
Former elected members
Peter Tschapek until May 2021 (former speaker)
Benedikt Slavik until September 2021 (former vice speaker)
Vanesa Cotroneo until September 2021
Jakob Gabriel until May 2020 (former speaker)
Helena Muster until September 2020 (former vice speaker)
Claudia Hachenberger until September 2020
Sabina Walter until September 2020
Florian Zeitner until September 2020
Laura Kölbl until September 2020
Simone Gehrer until September 2020
Thorsten Wißmann until September 2020
Timo Sestu until September 2019
Matthias Lexow until September 2019
Marie-Kristin Döbler until September 2019
Maria Lehmann until September 2019
Sabine Ebensperger until September 2018
Robert Prophet until September 2018 (former speaker)
Monika Doll until September 2018
Annika Clarner until September 2017 (former speaker)
Matthias Plennert until September 2017
Veikko Ruth until September 2017
Kerstin Lorek until September 2017