Have you ever wondered who corrects your exercise handins and which technologies and effort goes into it? It is now part of the Informatik Sammlung Erlangen (ISER), a neat collection of historic computers and mathematical devices (they also have working Z23 worth visiting).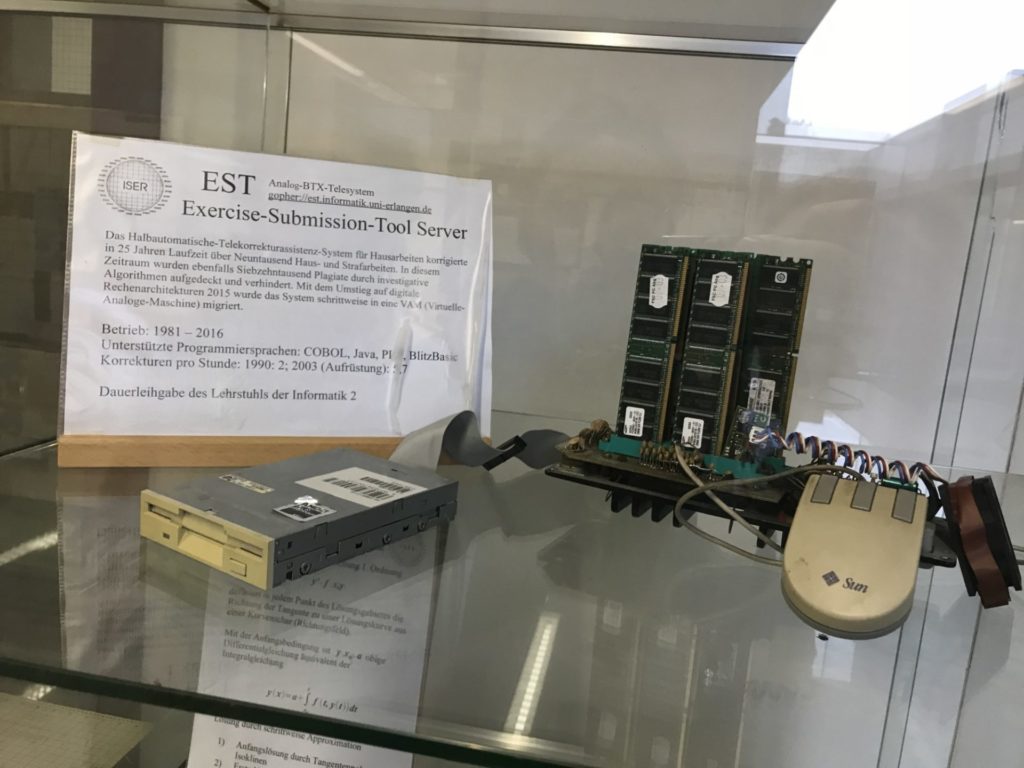 The official looking sign says:
EST

Analog BTX-Telesystem

gopher://est.informatik.uni-erlangen.de

Excercise-Submission-Tool Server

Das Halbautomatische-Telekorrekturassistenz-System für Hausarbeiten korrigierte in 25 Jahren Laufzeit über Neuntausend Haus- und Strafarbeiten. In diesem Zeitraum wurden ebenfalls Siebzehntausend Plagiate durch investigative Algorithmen aufgedeckt und verhindert. Mit dem Umstieg auf digitale Rechenarchitekturen 2015 wurde das System schrittweise in eine VAM (Virtuelle-Analoge-Maschine) migriert.

Betrieb: 1981 – 2016
Unterstützte Programmiersprachen: COBOL, JAva, PIZ, BlitzBasic

Korrekturen pro Stunde: 1990: 2; 2003 (Aufrüstung): 5,7

Dauerleihgabe des Lehrstuhls der Informatik 2
next to a weird collection of old hardware, including a mouse, several memory dimms vertically installed, a floppy drive and a fan. Everything looks like it is held to gather by hope and some duck tape.
Located at Martensstr. 2, 2nd floor, in front of CIP2.
Found on October 10th 2017