Thank you all for coming… Kneipenabend am 27.11.18 – Schön war's!
— English version below —
Schön, dass Ihr unserem Aufruf am Montag so zahlreich gefolgt seid und im Anschluss an die offizielle Veranstaltung in der Orangerie zum Kennenlernen kamt, zu dem der Promovierendenkonvent Euch herzlich eingeladen hat!
Über den regen Zulauf haben wir uns sehr gefreut und hoffen, dass Ihr auch beim nächsten Kneipenabend wieder dabei sein werdet! Über unseren Blog könnt Ihr ganz einfach am Laufenden bleiben und erfahrt alle wichtigen Termine!
Schön war's, sagt Eure gewählte Promovierendenvertretung!
P.S.: Es wurden im Kanapee die auf dem Foto zu sehenden Damenhandschuhe gefunden. Außerdem werden Herrenhandschuhe vermisst. Die Dame, die also aus Versehen die Herrenhandschuhe eingepackt hat, darf sich gerne bei uns melden, dann arrangieren wir einen Rück-Tausch! 😉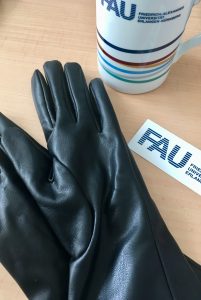 ---
Thanks a lot to all who joined us for our get-together on Monday after the official welcome-statements of the Vice-President and the FAU-Graduate Centre to all new PhD-students at FAU!
We very much enjoyed meeting you!
Hopefully, this was only the first time that you visited our "Kneipenabend" and many times will follow. To keep up to date, please check out our "Calendar"-section!
P.S.: This pair of gloves for women was found in Kanapee afterwards and there is also a pair of gloves for men missing. So the woman, who took the men's gloves with her by accident is warmly welcomed to talk to us, so that we can arrange an exchange! 😉
---