The Swiss Presidency of the EU Alpine Strategy (EUSALP) 2023 has focused on transversal topics and their political relevance. At the end of the presidency, the Annual Forum and the General Assembly took place in Bad Ragaz (19th Oct 2023), where four cross-cutting priorities were discussed: a) Promoting Digitalisation for the Alps, b) Accelerating the Energy Transition for a Carbon-Neutral Alpine Region, c) Promoting a Joint Water Management Transition and d) Boosting Circular Economy.
We were invited to 'map the scene', i.e. to present cartographic illustrations for each of these cross-cutting priorities. The maps in our working paper are based on data that have not yet been widely used in the Alpine region, but have been selected to provide 'food for thought' and to 'fuel the debate'.
The paper comments on the maps presented in Bad Ragaz in a compact form, in response to the strong interest shown by the participants of the conference.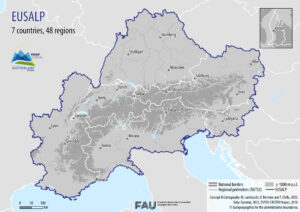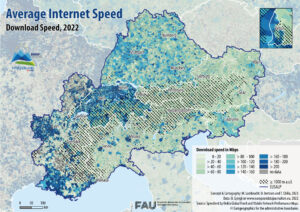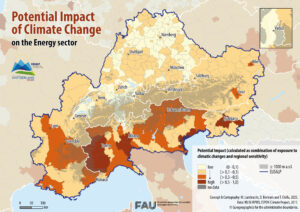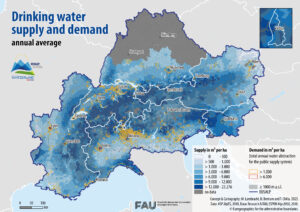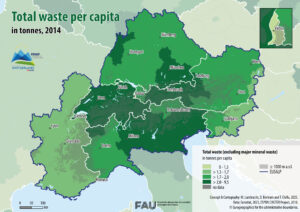 To cite this paper:
Chilla, T., Bertram, D. & M. Lambracht (2023): Mapping the Scene: Cartographic sketches linked to the EUSALP cross-cutting priorities – EUSALP Annual Forum organised by the Swiss Presidency. Working Papers FAU Regional Development No. 5. http://dx.doi.org/10.13140/RG.2.2.16988.16007
Here you can find more of our working papers:
Working Paper No. 4: Chilla, T. (2021): The domestic dimension of cross-border governance. Networks and coordination patterns: Networks and coordination patterns. Working Papers FAU Regional Development No. 4. http://dx.doi.org/10.13140/RG.2.2.21676.18564
Working Paper No. 3: Bertram, D., Garkisch, J., Geiger, W., Haack, A., Hellwagner, T., Hippe, S., Lambracht, M., Müller, C. & J. Reizlein (2019): Räumliche Integration: Das Beispiel der bayerischen Grenzregionen zu Österreich und Tschechien. Working Paper No. 3 der AG Regionalentwicklung an der FAU. http://dx.doi.org/10.13140/RG.2.2.21585.25440
Working Paper No. 2: Chilla, T., Sielker, F. & F. Othengrafen (2017): Governance diffusion in Europe – the EGTC tool and its spatial implementation patterns. Working Papers FAU Regional Development No. 2. http://dx.doi.org/10.13140/RG.2.2.28865.45927
Working Paper No. 1: Sielker, F. (2016): What could the future role of macro-regional strategies in the EU be? – Four scenarios. Working Papers FAU Regional Development No. 1. http://dx.doi.org/10.13140/RG.2.2.22602.29120